He helped you with your homework, threw the baseball until you finally hit it and wiped your tears away when you felt you had no friends. He's your dad and he deserves to be celebrated this weekend! What better place than Collingwood to celebrate Dad and all he stands for. Here are some great ideas for celebrating this weekend.
Head to Delphi Point Park and have a tour of the fossil beds. Any Dad will enjoy the fun day out that is also a great educational opportunity for the kids. Families pay $5, but Dad is free!
Go caving
Visit Scenic Caves this weekend and Dad gets free admission with a paid child admission (that's a switch we like to see!). A great bonding experience for Dad and the kids, this deal is on both Saturday and Sunday. There is a printed coupon that you must take as mobile reproductions aren't accepted.
Let him have time to himself
All Dads need time to themselves to recoup and be the best Dad they can. How do they do that? At Scandinave Spa of course. Let Dad enjoy soaking in the hot pools and cooling down in the cold pools. Buy him a book, a robe and a reusable water bottle and his day is set!
Take him golfing
I don't know one Dad who wouldn't appreciate a day on the links (with or without the kids) and Collingwood is amazing spot to hit them. Visit the Blue Mountain Golf Course, Cranberry Golf Resort or check out Monterra Golf. Tee times are probably filling up so call and see if they can squeeze in a time for you! If the day is full on the courses, you might want to try out the mini golf course at the mountain instead – it will still be tons of fun!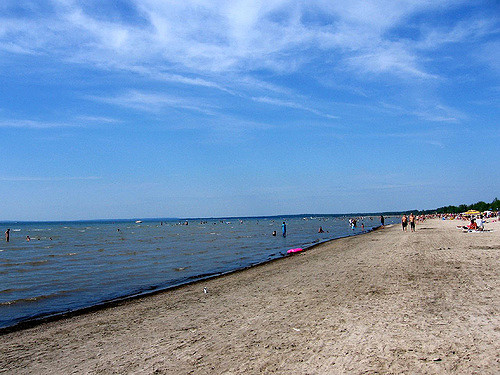 Head to the Beach or go Boating
Living on beautiful Georgian Bay is a pure treasure and any resident or visitor of Collingwood should take advantage of this amazing body of water. Wasaga Beach, which is a very short drive east of Collingwood is very popular and is the world's longest freshwater beach. Sunset Point Park is a rock beach, but also a great place to spend the day with a Frisbee and a picnic basket.
Take him out for a beer
Dads love beer more than they love golf, so any Dad will appreciate the great number of brew options in the Collingwood area. From the Collingwood Brewery, which is a definite local wonder where you can kick back and watch the beer being made or the Northwinds Brewery, which has an amazing atmosphere and tasty offerings.
This one is so obvious that we almost don't need to mention it, but a day spent at Blue Mountain's Village is better than any day spent anywhere else. Walk around, enjoy the scenery and then people watch from Rusty's patio. Dad will love it.