Patio season has officially begun and what better way to enjoy a day on the weekend than sitting on a patio with friends in Collingwood, enjoying the food, the drink and of course the gorgeous scenery. Here's a list of the best patios in the town!
A great spot for people watching, this local favourite located right on Hurontario has comfortable seating, fresh squeezed orange juice and is the perfect spot for breakfast, lunch and dinner.
2.       Tremont Cafe
Another spot for lunch, brunch and dinner, this charming patio located outside of a heritage building – the Tremont House – is a not-to-miss this season. The food is outstanding and so is the service.
For a romantic night with an al fresco meal, take your date to the Tratoria Azzurra and visit their lovely patio. On the other hand, bring the entire gang for family-style Italian dining in the great outdoors. Either way, you won't be disappointed.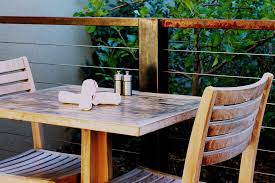 4.       Bent Taco
Known by visitors as the best patio in town, people rave about sitting outdoors enjoying a meal at Bent Taco. Not only is the food amazing, the service is top-notch and if you get chilly, you might even get blankets to keep you warm! If blankets aren't your style, drink a few tequila shots or Bent margaritas instead.
With amazing waterfront views, this restaurant opens right up to its patio, so you'll enjoy the beautiful weather inside and out. Their homemade soups are definitely a must-try, even during the warm weather.
6.       Santtini's Restaurant
With a small sidewalk patio, you can people watch while enjoying your glass of wine and frito misto. You'll feel like you're right in Italy.
7.       Sol Kitchen
If you are looking for something fresh and delicious on a sunny day, look no further than Sol Kitchen. With a small sidewalk patio, you can enjoy healthy fare and soak up that vitamin D.
8.       Rusty's
Rusty's patio is great any time of the year. Right at the base of the mountain, this is the spot to go for a party atmosphere and great drinks. The food isn't bad either.
Actually in Thornbury, it is definitely worth making the drive. The food is delicious and local and the drinks are worth raving about. The patio may just be the best in the area.
And last, but not least, this spot is centred around all of the action at the mountain and is a great family-friendly spot for hanging on the patio while munching on some tasty pizza.