Is your best friend 4-legged with a furry body and an ever-wagging tail? If so, Collingwood is a great place to live, because there are so many dog lovers and fun places for dogs and the people they own to go.
Pawplar Park (also known as Dog Town)
Opened in May 2009, this off-leash dog park has been very successful in Collingwood. You can spend the day there, frolicking with your pups, meet other owners and let your dog get some off-leash socializing in. Located at the Train Trail on Poplar ("Pawpler") Side Road, there is ample parking at the water pumping station. There is five-foot fencing all around the park, so your dogs can run freely without a chance of escaping the area. There is a double gate at the entryway so you can safely bring dogs in and out without any running out when you open it. Note that dogs are not allowed in the pond, as it is a water supply pond. You can use the area from sunrise to sunset and it is completely free to use!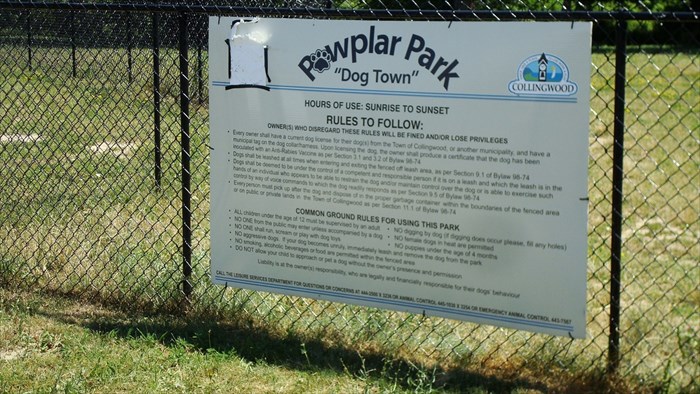 Located at 5 Elm Street, the Bark Park is a business that allows your pups to socialize and have playtime with other dogs in an open-concept setting. With 800 feet of indoor space and 1,000 feet of outdoor space, you can leave your dog in their doggie daycare for $15 – $25 a day and they also offer overnight care. When the weather is right, they even offer water play for the dogs who love to get wet!
On-leash spots
While many dogs love to roam and play, some love the comfort of walking on a leash beside their owner. Collingwood abounds with trails and places for you and your dog to walk, whether you are taking a quick 10 minutes or the entire day.
Heather Parkway
You can spend the entire day walking this trail that goes throughout the entire town. It is over 20 km, but you can make a number of stops along the way for drinks, food and rest.
West Circle Route
If you aren't quite as keen as walking the entire town, how about 7.7 km? The West Circle Route follows the Georgian Trail and goes along the Black Ash Creek, so your dog can get a quick drink if needed.
East Circle Route
If you want a scenic route for you and your dog to enjoy, try the East Circle Route, which is 5.8 km and should take you about 1.5 hours. You'll head along the Train Trail, the Pretty River and through Sunset Point Park. There are even interpretive signs that speak about history of the town, which is great for new residents or visitors of Collingwood.
Year-round there is fun to be had for humans and dogs in Collingwood.