Officially Collingwood's biggest event, the Collingwood Elvis Festival is known around the world. Happening this weekend (July 28th to 30th), visitors and residents are in for an epically-good time!
Among the many performers who will be taking the stage this weekend, there are a number of other great events happening. With a huge street party that goes into the wee hours, there are many vendors, a beer garden, storyteller chat, gospel, dining with tribute artists, street dancing, and you can even channel your inner Elvis.
The list of tribute artists and impersonators is huge and the competition to be crowned the best Elvis is fierce. You don't want to miss the grand champion showcase, where the top 26 competitors will compete. The Grand Finals happen on Sunday. Both events happen at the Eddie Bush Memorial Arena on the Showcase Stage and require tickets that start at $20. There are a number of other shows happening at the arena, which also require tickets. Other venues that require tickets include the Royal Canadian Legion at 490 Ontario Street, the Leisure Time Centre at 100 Minnesota Street, and the Historic Gayety Theatre at 161 Hurontario Street.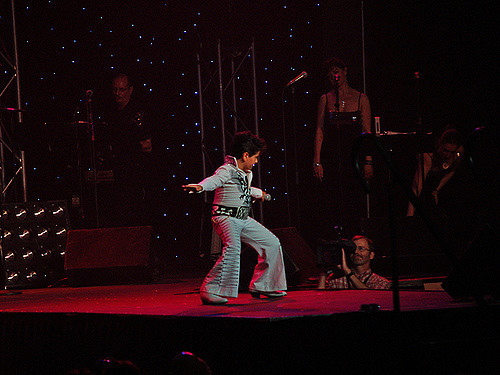 The beer garden is located at 32 Simcoe Street and is for ages 19+. There will be many Elvis Tribute performances during the day, where you can sit and watch while having a cold and refreshing beverage. The special free performances happening throughout the weekend will be at the Centre Stage on Hurontario Street, with free entry for people of all ages and at the Blue Mountain Village Stage, at the mountain. You also don't want to miss a free performance at midnight called Elvis at Midnight, happening at the McDonald's Restaurant on First Street on Saturday.
If you want to dine with a tribute artist, there are specific dates and times when the artist will be at one of Collingwood's many local restaurants. Make your reservation or head in early to get a seat.
The Collingwood Elvis Festival began in 1995, held at the Georgian Manor Resort (then the Vacation Inn) and was known as the Canadian Elvis Tribute and Convention. As time went on, the festival grew larger and larger and in 2014, it celebrated its milestone 20th anniversary and Priscilla Presley was actually in attendance. The festival has seen many a VIP attending, many of which were friends of Elvis, including Joe Esposito, J.D. Summer, Christopher Ameruoso and so many more.