Those long days of summer sun are just around the corner, and if you do one thing in Collingwood this summer, it should be to hit one of the Collingwood areas many gorgeous beaches!
Collingwood's own Wasaga Beach is not only Blue Flag Certified for an ongoing commitment to environmentally sustainable practices but is also the longest freshwater beach in the world! But that's not all. Visitors to the area won't want to miss out on a chance to check out Memorial Park Beach and its legendary Twin Sister rocks or the quaint pebbled shorelines of Little River Beach Park. The nearby Hibou Conservation area has tons of great activities to check out, and Sauble Beach was recently rated as the top beach in the country!
Suffice it to stay that Collingwood has no shortage of killer beaches to check out this summer. That said, it is important to always keep sun safety in mind when enjoying those long summer days. In fact, it's especially easy to end up with a sunburn when you are chilling near water, so you'll want to be sure to take all the necessary precautions this summer to keep your skin safe.
With that in mind, here are 3 handy summer skin care tips for summer fun in Collingwood.
1. Break Out Those Sunhats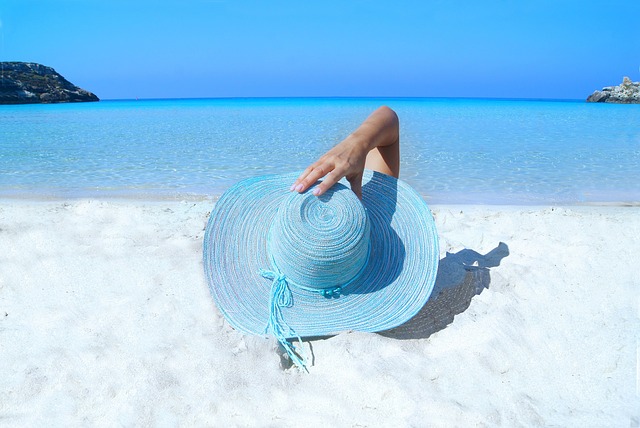 Sunhats are more than just a timeless summer fashion statement.
In fact, they are literally designed to provide an extra barrier of protection for your face and neck, which are two areas that are extra vulnerable to all those hot summer rays. So, pick out a bucket hat, straw hat, or outback hat you love and make good use of it!
2. Colour Matters
One thing that many people don't realize is that those bright colours we tend to associate with beachwear actually absorb more UV rays, much like dark colours. This means that the safest bet is to stick to a light colour when it comes to picking out your beachwear. Colour lovers need not despair, wearing softer pastel hues still allow that outfit to pop without making you more prone to skin damage from the sun.
Don't forget to wear loose fitting clothing and bring enough fabric to cover your arms and legs to give them periodic breaks from exposure. The denser the fabric, the better; so stay away from overly sheer cover-ups.
3. Slather on that Sunscreen
Last but certainly not least, a high-quality broad spectrum UVA/UVB sunscreen with SPF 30 or higher is essential for extended outdoor fun. Reapply every 40 minutes or right after coming out of the water and be sure not to skimp. Sunscreen is only effective if you use enough.