Southern Georgian Bay has a calendar full of things to do! From family-friendly events in the villages to entrepreneurial opportunities around Collingwood, there are some great events happening this May that aren't to be missed.
Creemore Vintage Festival – May 14th
Check out vintage vendors displaying their unique wares of antiques, gifts, handmade items, clothing and toys. There will be entertainment including live music and magic and a chance to ride a penny farthing bike.
Stayner Kinsmen Duck Races – May 7th
Located at Kinsmen Park, this event includes a corporate duck race, along with a car show, BBQ, scavenger hunt and other activities. Tickets are $5.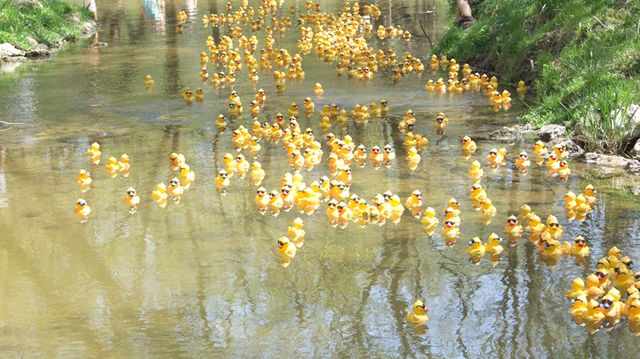 Collingwood Spring Market Place – May 7th
Visit the Eddie Bush Memorial Arena to shop local, with over 80 vendors showcasing unique items, jewellery, services and produce. There will be a family fun zone and lots to eat and do.
Canada Holland Tulip Spring Cleanup – May 13th
Get in the act and clean up Stayner! Starting at SCI and ending at the fountain on Highway 26 and Oak Street, come out from 12 – 5 to clean up after a long winter.
Creemore Springs Turas Mor – May 14th
Grab your bike (vintage bikes a plus!), your vintage jerseys and gear and come out for a 61km cycling journey through the hills of Creemore. This ride is inspired by the European vintage rides, also known as the "great journey". Pair this ride up with the Vintage Festival for a fun-filled day.
May Long Weekend at Blue – May 21st to 23rd
Featuring live music, a rib-eating contest and fireworks, visit the Blue Mountain Village for the biggest party of the weekend. Hit the patios and visit the shops while enjoying everything the village has to offer.
Blue Mountains Tour of the Arts – May 21st to the 23rd
Tour local artist studios, as they open them up to the public. View artist studios including pottery, sculpture, jewellery, textiles, photography, paintings and more.
Start of the Farmer's Markets! – May 21st
Both Collingwood's downtown market and Creemore's farmer's market will begin this day and every Saturday until October, featuring a wide array of local and some organic produce, baked goods and unique items.
Collingwood Art on the Street – May 23rd
Starting on May 23rd and into October, art on the street will incorporate the work of local artists into an outdoor gallery of art banners and hand-painted chairs. Artists of all ages and experience were pre-selected.