While Collingwood has many great amenities, one of our most valued spots for both residents and visitors alike is the Scandinave Spa. These Scandinavian baths do wonders for your health, your mind and your general well-being, which is why they are such a treasured resource.
Located just outside the city, near the base of Blue Mountain, this luxurious retreat will literally knock your socks off. With hot and cold pools, a sauna, steam room and many indoor and outdoor spots to relax and kick back, Scandinave Spa is a spot you can visit once a year or many times a month.
Nestled right in the forest, the spa is open every single day from 10am until 9pm, where guests can escape from the stresses of their daily life and simply enjoy the serenity. Similar to the hot springs you'll find in Europe, your experience includes hydrotherapy, which is where the healing properties of water are used to improve your health.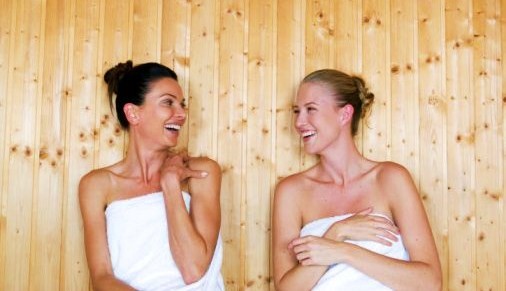 The process
From the time you walk into the spa, you'll be greeted with a friendly and calming atmosphere. You'll change into your swimsuit in one of the two change rooms and put on a robe (if you so choose). From there you'll head outside, whether it is spring, summer, fall or winter, where you'll enter one of the hot pools to relax and simply be still. There are three tubs of varying temperature and you can work your way up to the hottest one. After spending some time in the hot pool, you'll exit and then enter one of the cold pools. It can definitely be a shock to some, but the effects of getting your body temperature up and then lowering it so rapidly in the cold water is very good for the body.
Once you've run silently screaming out of the cold pool, you'll rest in a hammock, by the fire or another relaxing spot on the Scandinave Spa's vast and gorgeous property. You may see a bunny run by or a deer in the wood as well.
Your next step might be to go into the sauna, again cooling yourself off in the cold pool or under one of the rain showers. The eucalyptus steam room is great for those winter colds that won't go away, clearing your sinuses and your head as you enjoy the completely steamed room.
You can spend the entire day here, treating yourself to each feature as you go, being sure to take a break between to get your body temperature back to normal before having it fluctuate again. They have a cafe on site, where you can get delicious and healthy salads and other spa fare, like tea and cookies. Once your treatments are over, you may enjoy an alcoholic beverage or two from the bar.
This spot is great for singles, couples or a group. There is a no-talking policy, as silence is very restorative, so be sure if you are in a group, you are still respectful of the other guests.
Benefits
Of course, a day at the spa is its own benefit, but there are a myriad of other benefits that await you after a treatment here. These include:
Boosting your immune system
Reducing stress
Connecting with a loved one
Connecting with yourself
Being one with nature
Improving blood flow to your organs and skin
The baths cost $55, although Wednesdays are only $45. Book a massage and you'll get in for free. As a local, you may want to look into a membership so you can go on a regular basis.