There have been many successful ventures that have come out of our area. Collingwood was voted one of the top places to start and grow a small business in a ranking of Canada's top entrepreneurial cities. One recent extremely successful business that was created in the area is Georgian Bay Spirits. While they've been around for a while with products like Georgian Bay Vodka and Georgian Bay Gin, it wasn't until their release of Georgian Bay Gin Smash did their business explode.
Made from local ingredients, Gin Smash has flown off the shelves at the LCBO and is the "hit of summer". Created by founders Tim Keenleyside and Denzil Wadds, part-time residents in the south Georgian Bay region, the pair were shocked to find out that their new product was sold out all over Ontario.
A gin cooler, made with juniper berries harvested in Muskoka and water from the Elmvale aquifer, the cooler has been immensely popular, which caused production issues for the duo. They sold through their forecasted sales for the summer in the first month, which meant many were disappointed to find the shelves at the LCBO were empty of the product.
The Toronto Star has voted this "The best pre-mixed cocktail to have ever hit the LCBO" and many consumers agree, considering the inability to keep it stocked.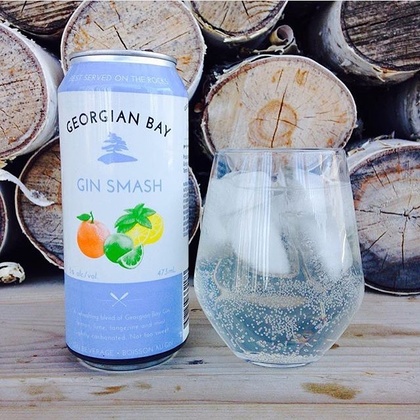 The Georgian Bay Spirit Co. was established in 2013, creating products that evoked the purity, balance and relaxation of beautiful Georgian Bay. Their first choice was the Elmvale water aquifer, as it has been touted as having the purest water on earth. They believe they've captured "the spirit of the bay in every bottle".
Not only is their Gin Smash doing well in Ontario, their vodka has received awards in the World Spirits Competition including Best Vodka. Their next project is going to be creating a vodka cooler with their award-winning vodka and they hope for similar success from this cooler as they've had from Gin Smash.
The pair hope the production issues will be resolved soon and that they'll be able to keep up with the demand. In the meantime, if you can't find Gin Smash on the shelves at the LCBO, you could try one of their delicious recipes for things like Gin and Tonic, French 75, Salty Dawg and Southside.
Sources:
http://www.simcoe.com/news-story/6823127-georgian-bay-gin-cooler-the-smash-hit-of-the-summer-season/