As if Collingwood doesn't have enough great events, The Keys to Collingwood Festival will again return to the delight of residents and visitors of the area. This one-of-a-kind event features 90 hours of performances on ten street pianos throughout Collingwood over the Civic Holiday long weekend. After the performances are complete, the pianos will remain on the streets for visitor use and enjoyment. What a treat for anyone in the area!
In celebration of Canada's 150th, each piano will display iconic images from all of our provinces and territories. The music will pay tribute to all genres including gospel, rock, classical, blues and jazz.
Along with the performances all weekend, there will be a special evening farmer's market on August 5th. In addition to their regular morning market every Saturday, the Market by Night will happen from 6pm until 10pm in its usual location (Pine and Second streets). Along with the regular vendors, there will be performances by The Suitors and The Mike McCarthy Band, plus balloon twisting, face painting, crafts and a magic show.
The locations of the pianos are:
·         Sol Kitchen
·         Espresso Post
·         Opposite Sheffer Court
·         Federal Building
·         Town Hall – this will feature the Monster Ground Foot Piano
·         Smarts Flowers
·         Scotiabank
·         The Tremont Cafe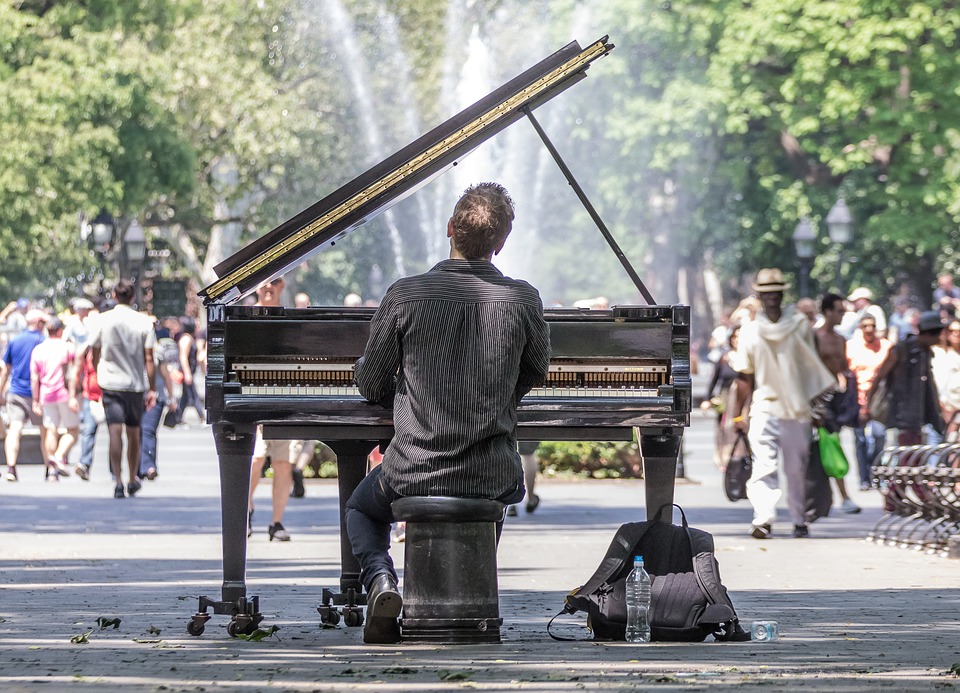 The list of performers is large and you don't want to miss out on the talent that will be playing Friday, Saturday and Sunday.
·         Xiaoyu Hu has been playing piano since she was seven years old and plays genres from classical to ragtime.
·         Billy Macpherson has been playing for 45 years and plays as BillyMac/One man Band. His music features influences from pop, rock, blues, and country.
·         Collingwood's own Aaron Bell is the Arts Department Chair at Collingwood Collegiate Institute. He teaches the Instrumental Program there, which is Simcoe County's largest award-winning band program.
·         Henry Cobb is a music student at Western University and has a passion for jazz and big band styles.
·         Christopher Tufaro is an award-winning performance artist and has performed at a number of large events, including the TD Jazz Festival.
·         Another Collingwood local, Nathan Stadig is also award-winning and is currently studying music at Wilfrid Laurier University. He has been playing since he was five years old and has travelled extensively performing and teaching music.
·         One not-to-miss performer is Joe Passion, a Jerry Lee Lewis tribute artist who has won various awards over his 35 years of performing.
·         Maureen Smith can play over 2000 songs in a number of genres.
·         Catherine Brown, Collingwood native and co-founder of the Collingwood Street Piano Project has been playing piano since early childhood.
·         Michael Danckert has been playing for over 25 years, featuring rock, folk, blues and jazz and he is also a vocalist.
·         Bruce Tournay has performed at a number of prestigious spots and has written the scores for two original musicals.
·         Robert Gasidlo has performed extensively through the Georgian Bay area, as well as internationally.
·         Keiko Yoden-Kuepfer immigrated to Collingwood from its sister city – Katano-ciy, Osaka, Japan – and it has been her home for over 10 years. She's performed with many orchestras around the area and has won numerous awards.
·         Susan Connolly currently lives in Collingwood and plays music with the Georgian Bay Symphony Orchestra.