Last year, Collingwood ranked 3rd in the ranking of entrepreneurial communities in Canada and this year it has raised the bar and come in first! Now Canada's most entrepreneurial community, this means that Collingwood is the best spot in the country to start a new business.
Rated by the Canadian Federation of Independent Business, their 2016 survey found Collingwood in the top spot because they are inviting to new business creation, growth and its prosperity. Organizations in the community that support new business include the Collingwood Chamber of Commerce, Georgian College and other small organizations.
Why is Collingwood so great?
Some in the city say the reason they were ranked highest was because of the entrepreneurial spirit in the community and the prime location for working. With the water and the mountains and the abundance of nature, people are better able to work and think clearly.
With competing communities all over Canada, Collingwood was up against some great contenders. The top ten spots went to:
2) Riviere-du-Loup, QC
3) Kelowna, BC
4) Penticton, BC
5) Toronto periphery, ON (905)
6) Barrie, ON
7) Kentville, NS
8) Saint-Georges, QC
9) Chilliwack, BC
10) Cobourg, ON
Interestingly enough, several British Columbia cities were chosen, which could be for the same speculated reasons – the surrounding environment makes it such a great place to work and start a business.
Barrie was chosen as the number six spot on the list, and with its close proximity to Collingwood, that gives Collingwood residents two cities in reach to start a business and thrive.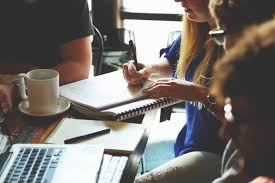 The best place in the country to live and work
With the amazing growth we've had in Collingwood, both in business and residential, there aren't any doubts that Collingwood is one of the best spots in the country to live.
If you are interested in starting a business in Collingwood, visit the Business Development Centre. This is a collaborative project between the Town of Collingwood, the Downtown Collingwood Business Improvement Area, the Small Business Enterprise Centre and the Centre for Business and Economic Development to encourage business growth and job creation. There are a number of business events to attend, including networking, job fairs and mentorship series.
Residents who need a spot to work, network and collaborate should look no further than The Creative Space, which will open in November. This co-working space has been in the works for two years and is going to be a game-changer in terms of business in the community, with space to work, meet and learn.