Here in Collingwood, we have something really unique and fun! It is called the Public Art Program and its aim is to "enrich the lives of Collingwood residents and visitors by enhancing public spaces, fostering cultural identity and pride, promoting creativity and encouraging dialogue among citizens". What this means is that after sending out a call to local artists, the Parks, Recreation and Culture Department in Collingwood commissioned these artists to create art that would be displayed uniquely in public spaces.
In 2015, local artist Stephen Hogbin created two unique public art benches that look similar to waves for the boardwalk at Harbourview Park.
In 2014, Rogue Goat artists Josh and Allison Hill completed a beautiful mural for the lobby of the Centennial Aquatics Centre. It fits perfectly with the swimming theme of the centre.
Also in 2014, artist Allison Hill created a template for a mural that was completed by campers at the Environment Network summer day camp. Painted right on a storage container at Sunset Point Park, this mural explored the camp's many themes and looks fantastic!
One very visible public art display that you may have seen is located in downtown Collingwood. At the south west corner of First Street and Hurontario, the Side Launch Mural resides, completed by artists Allan Bender and John Nobrega of Blinc Studios.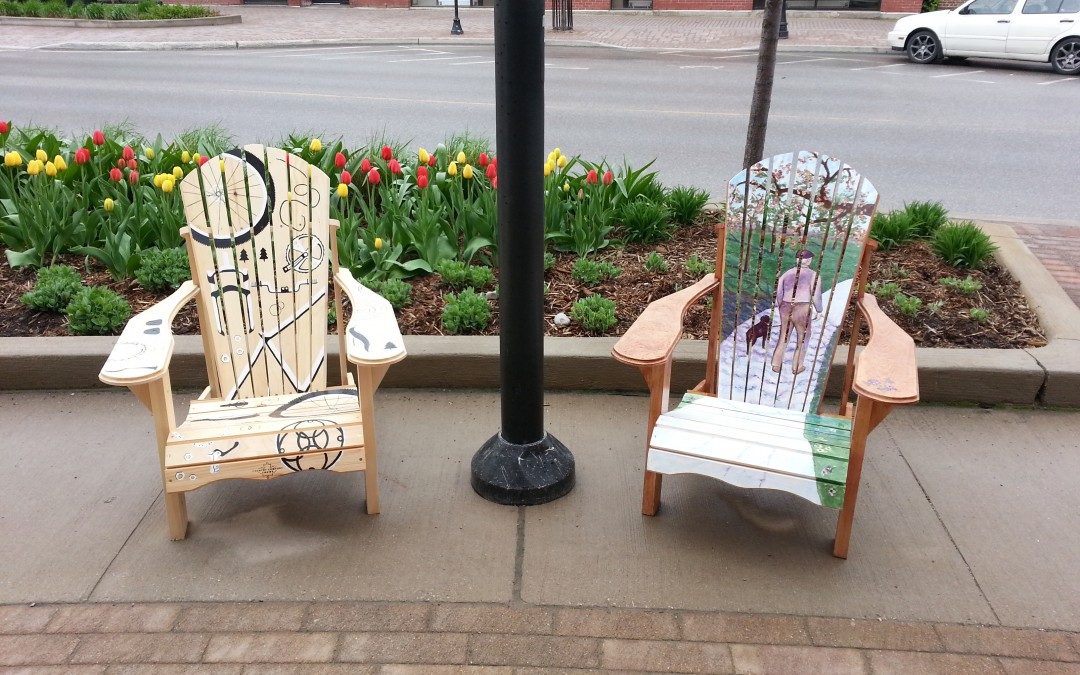 The Public Art Program is not to be confused with the Collingwood Art on the Street event that runs from May 23rd until October 10th and is now in its sixty year! This event features outdoor art exhibitions by over 50 local artists. You'll see hand-painted Muskoka chairs and colourful art banners, which feature paintings, sculpture, stained glass, ceramic, jewellery and more.
If you want to find out the locations of all this public art, be sure to stop by the Parks, Recreation and Culture office, which is located on the third floor of the Collingwood Public Library. Alternatively, you can stop by Station Museum at 45 St. Paul Street to pick up a map and do your own self-guided tour.
Obviously Collingwood is a very artsy place, full of culture and liveliness. It is a great place to visit and an even more attractive place to live.