If the colder temperatures, snow-covered ground, and icy roads have you feeling like you just want to hibernate inside, think again! Collingwood has an amazing winter scene.  There is so much to see and do here at this time of year, you'll be sad that you missed it if you wait out the winter inside.
Play in the Snow
Located as the gateway to the Blue Mountain Ski Resort, a Collingwood winter isn't complete until you go play in the snow.  Take advantage of Collingwood's proximity to the mountains and stay in town by night, visiting the mountains to ski by day.  If skiing isn't quite your thing, there are still lots of snow playing opportunities around town.  There are many hiking trails, which go along Georgian Bay for you to explore – by foot or on snowshoe.  Pack a thermos of hot soup and make a day of it.  If you are interested in some old-fashioned snowman building and rolling in the powder, head to Harbourview Park where kids and adults alike can play. In addition, although a bit colder, the beaches are still a great winter destination and create the perfect landscape for a nice weekend walk or afternoon out with the dogs.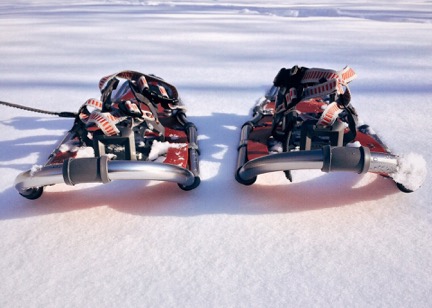 Go to Events
If you can't get the family out walking outdoors in the winter, it's a wonderful time of year to get them together and go to some local community events.  The winter market happens on Saturday mornings, and is a great way to support local farmers as well as stock up on healthy food for the week. There are several Santa Claus Parades coming up in early December, and you can take the kids to visit Santa and his Reindeer every Saturday all month long! And don't forget to look into upcoming Christmas craft and gift markets.  These happen most weekends around the town and are the perfect opportunity to tick some shopping off your list or find a unique gift for that hard to buy for person.
See the Town
Once you've done your shopping, it's time to take a little stroll around town.  You may have spent plenty of time strolling around Collingwood under the summer sun, but have you seen it in it's snow-covered glory? The town takes on a completely different life when you walk around under starlit skies, seeing rooftops laden in freshly fallen snow, and houses glowing with Christmas lights.  Instead of ice cream, stop in to one of our lovely cafes and get a hot chocolate or warming tea to walk around with, and finish the evening staring up at the gorgeous Blue Mountains or sitting on the waterfront.  It might be a bit chilly, but you'll appreciate the town that little bit more for its ability to be a delight in all four seasons.
Don't let Old Man Winter fool you and keep you inside.  There is lots happening around town over the winter months and you'll be sure to find something you enjoy.  And even if it is a little colder than sitting inside by your fireplace, it will totally be worth it.