As the weather is starting to turn cold, you may be turning your attention to home improvement projects located inside of your home. One major project that can improve the look and feel of your house and give your property a major boost in value is to update the flooring in your home. 
However, updating your home's flooring should not be a random decision. There are many flooring options to consider and you want to choose the best option for your particular lifestyle, budget, and more. 
Features to Look for in New Flooring
As you choose new flooring for your home, there are many features to consider as you make your choice. The best type of flooring will last for years to come, is easy to maintain, durable, and much more. Here are a few features to look for in this important product. 
Durability. This is particularly important in high-trafficked areas of the home and if you have indoor pets and children. 
Care and maintenance. You do not want to spend hours cleaning and caring for your flooring each week. Make sure the flooring you desire is simple to clean and maintenance is minimal. 
Ability to handle moisture. Some types of flooring, such as carpet, do not work well in high-moisture areas. If you are installing new flooring in bathrooms or kitchen areas, make sure the flooring handles moisture with ease. 
It fits within your budget. While you certainly don't want to settle for a low-quality product to save some money, you must choose a material that fits within your budget and that will not cost you a fortune to install. 
Types of Flooring to Consider
While there are many types of flooring options for your Collingwood house, here are a few popular options in this area. 
Hardwood Flooring
Hardwood flooring can be installed anywhere throughout the home including the kitchen, entryway, living areas, and bedrooms. Hardwood provides a timeless design that complements all types of styles, trends, decor, and more. Additionally, hardwood flooring comes in a variety of wood types and colours so you can find a product that is unique and perfect for your home. 
Be aware that if you choose true hardwood, it can be a pricey addition to your house. You will also need to refinish the wood flooring after some time to help it maintain its gorgeous, rich appearance. 
Laminate Flooring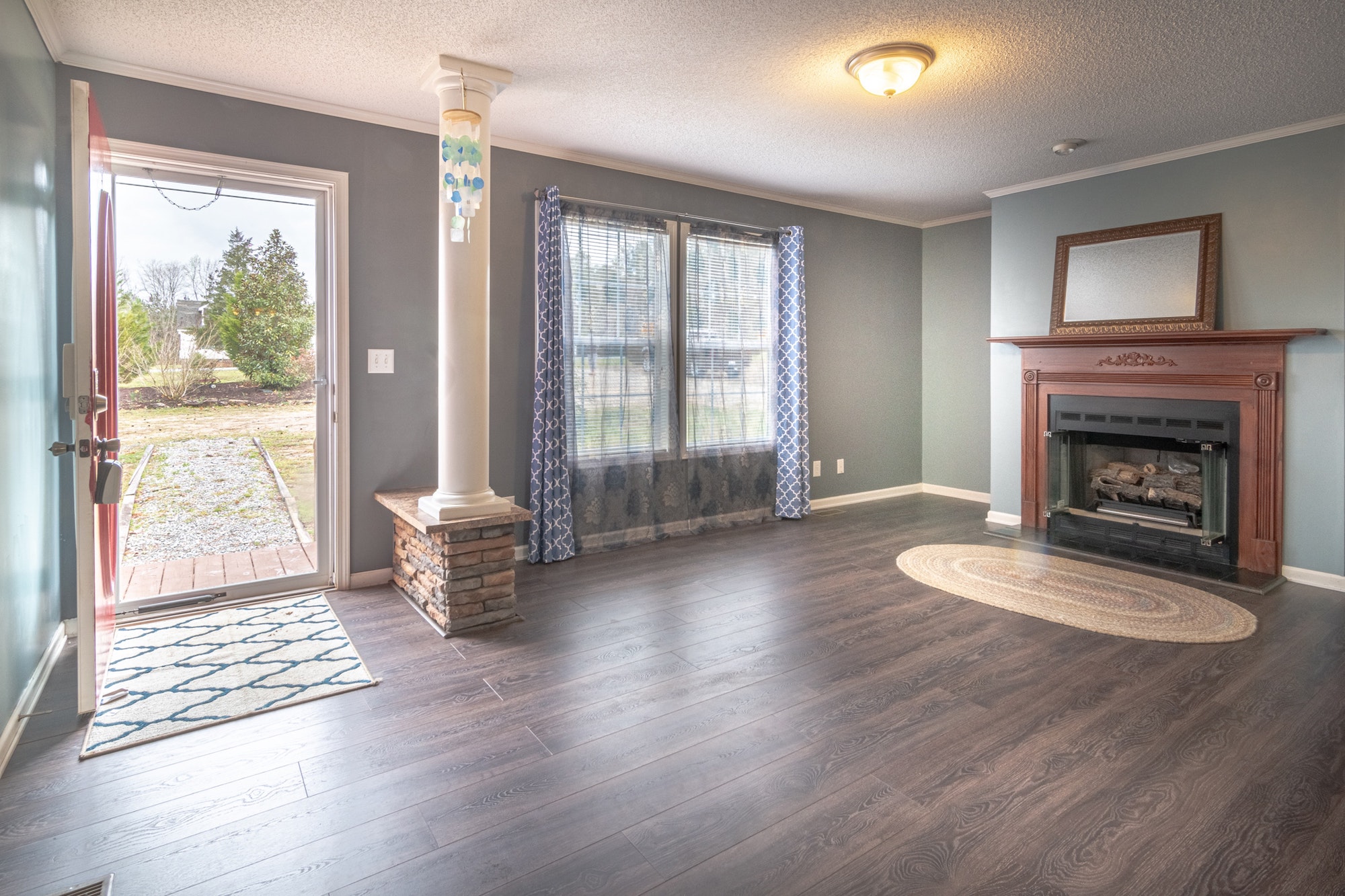 Laminate flooring is tough and durable and is ideal if you have children or pets at home. A major benefit of this material is it can look like other types of flooring such as stone or hardwood, but without the high price tags. Laminate flooring is also simple to install and keeping it clean is fast and simple. 
Carpet
Carpet is ideal for those areas where you want maximum comfort. Carpet is perfect for bedrooms, family rooms, and living rooms. There are all types of carpet options and you can choose the specific colours, cut, yarn type, etc., that you desire. 
Carpet does require more care than other flooring options and you will need to vacuum the flooring often as well as deep clean it. Carpet also does not handle spills and stains well so you must be mindful of where you choose to install it. 
Stone Tile
Stone tile creates a rich, luxurious, and gorgeous look to any area of your home. This type of material is perfect for kitchens, entryways, and bathrooms where it can encounter a lot of moisture. Stone tile is also easy to wipe clean if spills, mud, or other substances are on it. However, you will want to hire a professional often or take time yourself to clean the grout between the tiles. 
Choosing the flooring for your Collingwood home is a major decision. Take the time to evaluate all of your options to help you choose a product that you will love.