Located on the southern shores of the beautiful Georgian Bay, Collingwood is one of the most popular vacation destinations in entire Canada. Just a two hours long drive away from Toronto, Collingwood is the best place for an outdoor adventure.
1.     Visit the scenic caves
The beautiful Scenic Caves in Collingwood are one of the most popular places in the city. Located near the Niagara Escarpment and just a few minutes away from the popular Blue Mountain Resort, the Scenic Caves are perfect for all those who are looking for an adventure in the city.
The highlight of this place is the caves and the caverns, together with rock formations within the caves. Ontario's longest footbridge is also located in the area. You can also enjoy various fun activities in the area with zip line adventures and activities for kids, such as wagon rides and playgrounds.
2.     Walk along with the Collingwood Arboretum
Besides the various hiking trails available along the Georgian Bay, Collingwood also has beautiful places near its shores, such as the Collingwood Arboretum. This beautiful place is perfect for a stroll along the shore.
With various sculptures along the way, together with trees and plant species, tourists can find it to be an incredibly relaxing place. There is also a park near the area, called Harbourview Park, which offers opportunities to view the birdlife.
3.     Hike at the Blue Mountain Resort
Located west of downtown Collingwood just at a 10-minute drive, the Blue Mountains offer various slopes for the tourists to ski, bike, and hike at. First established back in the 1940s, the area covers 800 acres of land.
The blue Mountain Resort attracts over a million visitors every year. With 36 ski and snowboard trails, two bases, and 15 chairlifts, it is the third busiest ski resort in Canada. There is no wonder why this area is also a very popular location for residential homes, as the Blue Mountain Village lies just nearby the resort.
The resort is operational all year around. When the snow melts, it becomes one of the best places for mountain biking in the country. The resort is also a base for various hiking trails, with the village organizing many festivals, concerts, outdoor movies, and others get together all year-round.
4.  Craigleith Provincial Park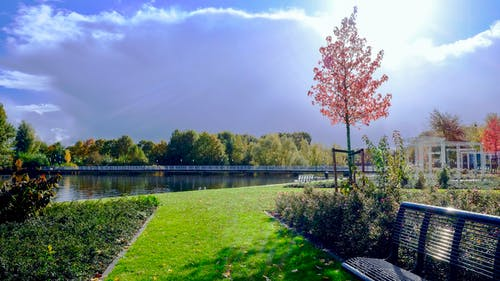 The Craigleith Provincial Park is one of the best places to experience the beautiful geology of the area. Located just halfway between Thornbury and Collingwood, the park is perfect for an outdoor adventure. It continues to attract geologists and scientists from all across the country. More than 450 fossils have been found in this area, probably millions of years old.
The park was first established in 1967, and since then, it has become a very popular place among the tourists and residents of the area. It is also very easy to launch kayaks and canoes in the area. It is also a very popular place for fishing, together with on-site camping on weekends.