Living by the water is amazing not just for the view, but for the great recreational opportunities. We are fortunate here in Collingwood to have one of the most beautiful lakes in Canada at our doorstep. Now that the warm weather is here (21 degrees for the long weekend!), we need to take advantage of it and use our gorgeous Georgian Bay.
The Collingwood Sailing School is a gem in our town. They offer sailing programs for almost all ages right in our harbour. Now in its second year of operation, the Collingwood Sailing School is owned by the Town of Collingwood. They offer the CANSail program in July and August, with once a week, half- or full-day courses available. All courses are taught by certified Sail Canada instructors.
If your child has shown a great interest in the water, this is a great way to get him or her out sailing. Offered for ages eight and up, the daytime program will teach boat handling, sail trim, knots, sailing terms, rigging, capsizing and water safety.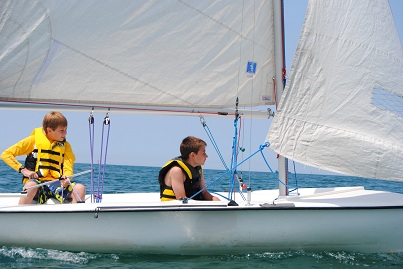 The evening course is for people aged 16 and up and is aimed at adult learners, but with the same curriculum.
The Collingwood Sailing School is always looking for volunteers. People wishing to gain leadership skills, new friends and on-water practice are welcome to apply to volunteer. You'll also need to be at least 14 years old and be working on your CANSail 3 or above. This experience will be great if you want to become an instructor as well.
After you've done your required courses at the Collingwood Sailing School, you can enter to join the Sidelaunch Regatta, an exciting event that takes place in the Collingwood Harbour. This three-day event is fun-filled and a great competition for athletes from the Southern-Georgian triangle area.
As well, on July 2nd, there is a fun, free day of water activities in the Get Out on the Water in Collingwood event, with rowing, paddling, fishing and sailing.